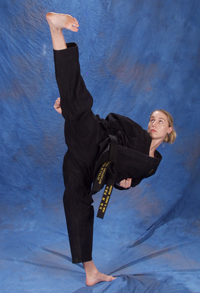 Amy Latta-Won, a Christian, Middle Grades School Teacher, and a 6th degree black belt in Tae Kwon Do, Hap Ki Do, Tang Soo Do, and Shotokan.
Mrs. Amy Latta-Won has been studying martial arts since age of 10. She has traveled all over the U. S. A. competing in some of the most prestigious tournaments in the world.
Mrs. Amy Latta-Won has won over 500 championships to her name. She won numerous NASKA National and World Championships and Grand Championships in forms, weapons and sparring. She won 1998 Best All Around World Female Competitors of the Year by NASKA, the world's most prestigious martial arts organization. In 2001 she was inducted into International Karate Circuit Hall of Fame. And she is also member of world prestigious KICK Team, which travels all over U. S. A. to compete and demonstrate martial skills to send Christian Messages.
She has appeared on ESPN, ESPNII, UPN, Home Entertainment Network, ITV (South Korean TV did Documentary on her and Mr. Won in September 1999), Black Belt Magazine, NASKA Magazine, IKC Kickers, World Competitors, Black and Blue Productions, and many more.
During her junior year in college, she was asked to be on the Mortal Combat TV series that filmed on Universal Studios in Orlando, Florida for several different occasions, but she turned them down to continue her devotion to college education. She has earned Bachelor's, Master's and Specialist's degree in science education from Columbus State University. She is currently working on her Doctorate.
She always emphasizes to all her students in middle school and martial arts school on furthering their education and to stay in school.
Today, she continues to train and teach martial arts at Won's Martial Arts in Columbus, Georgia and Phenix City, Alabama. And she is a 6th grade science teacher at Blackmon Road Middle School.
She spends most of her spare time devoting to church, teaching Sunday school, gardening, swimming, and playing with her cat Jackie.
Ecclesiastes 3:1-8